CARDIAC CATHETERISATION
Also referred to as a coronary angiogram, this minimally invasive test involves threading a slender flexible plastic tube (catheter) through the skin under a local anaesthetic, via an artery in the top of the leg or wrist, into the heart to take X Ray picures of the coronary arteries for the diagnosis of ischaemic heart disease and to help decide best treatment. Pictures of the pumping chambers can also be taken, and measurements of pressure in the chambers of the heart.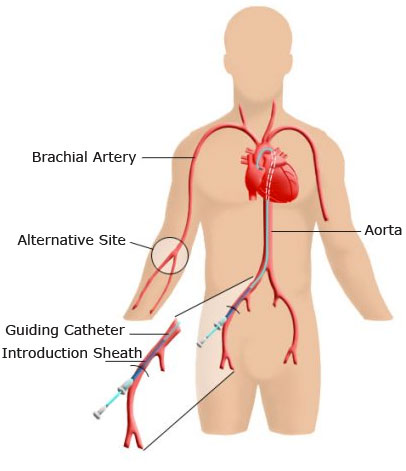 In some patients, Dr Pegge proceeds immediately to angioplasty treatment at the time. This is appropriate usually for patients with unstable symptoms or acute coronary syndromes.
For many patients with stable symptoms, the test is carried out and a discussion about treatment options may then take place allowing time for the patient to consider options.
Treatment options may include no treatment; drug treatment only; angioplasty and stenting; or in some cases, coronary artery bypass grafting. Dr Pegge participates in multi-disciplinary team meetings in Sussex with other interventional cardiologists and cardiac surgeons and complex cases are discussed at these meetings.